By Jeff Stolowitz
New Restaurant Review of The Spott NSB.
One never knows by pictures and words on Social-Media whether a place really has soul has the right ingredients to make a restaurant successful. We all know the statistics more then 10% of the nation's eateries have closed during the pandemic. The difference here is that The Spott NSB opened and remains open. Here's a New Restaurant Review Behind New Smyrna Beach.
I follow a tremendous amount of places stretching from Florida to Portugal so it is somewhat difficult to catch my attention sometimes but something did.
It wasn't just the beautiful pictures of the food or the reviews. I started noticing the ingredients they were using the recipe for success. I was familiar them. It is what made me tick when I was a chef. Fresh locally sourced ingredients. A local bunch of owners, opening on a historic Canal Street in New Smyrna Beach.
Needless to say I visited there two nights recently and here's my review.
The First Night
5 months after following watching and waiting I bounced into the restaurant on a Friday night mid December. I was pleased when we walked in and 2 spots at the Bar opened surprise surprise!
Excited about seeing the menu a few things caught my eye immediately a Magnum of 2019 Caymus, Brick Walls, really cool floors, the aroma of Truffles. The greeting was awesome as Courtney Elliot, an extremely professional mixologist welcomed us. We were made to feel like we had been there a thousand times.
She told us the owners were all local and had worked in the hospitality industry here in New Smyrna for a long time.
I asked for a wine list, I ordered a house Pinot Noir to start the evening. My friend Ira ordered a Guinness. Perfectly poured. We were headed into the adventure of eating.
I had seen pictures of Dry Aged Steak on The Spott's Instagram page and it immediately reminded me of the Steaks my friend, chef and mentor John Tesar serves in his establishment, Knife in Dallas. Mouthwatering marbled steak, here in Volusia County it couldn't be true, but it was. The owners Greg and Terry did it and with the help of Executive Chef Lee Bentley they were up and running.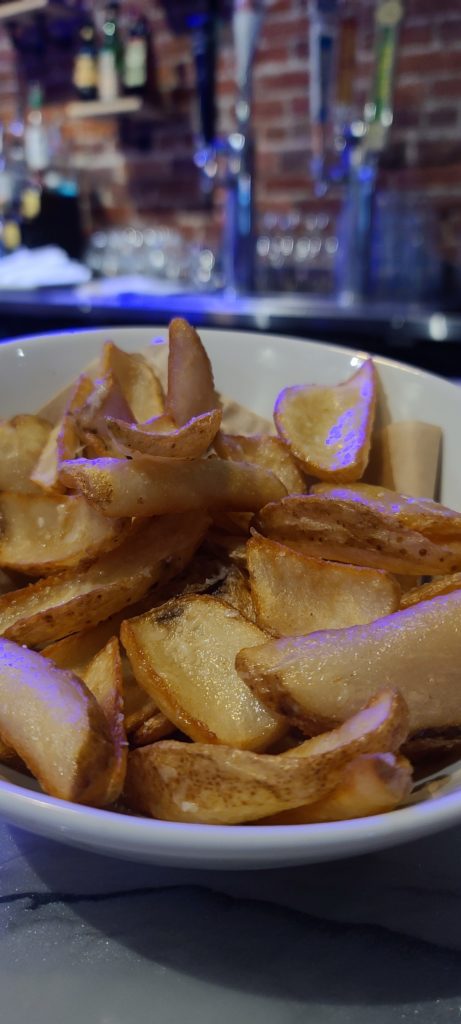 I ordered the Caymus, well I knew I was eating steak. This is my favorite wine of all time and I have been drinking it since 1989 when I was introduced to it while cooking at Wilsons an eatery on Worth Avenue in Palm Beach. The wine blew me away then it did the same when we drank the 2019 vintage which will age and get tastier with time. That is also true of the Bone in 35-day aged steak we ordered. It was topped with an amazing bone Marrow butter that was Brule'd tableside. Something we would find is a signature of their place. The Steak was cooked to a perfect mid rare and had the earthy nuttiness and melt in your mouth flavor everyone craves but can never find. Well people it's been found.
We also ordered the Truffle fries how could you not.
A Portuguese Style Cioppino was our second entree chocolate full of the flavors I would find when I traveled to the Algarve on the coast of Portugal ?? ?. Abundance of Shell fish, Octopus, and delicate Trigger Fish.
Needless to say the night was an amazing display of hospitality and from a retired Chef and Foodie's perspective a huge success as I saw the smirk on my friend Ira's face as he said, "I can't wait to come back "
---
---
Second Night
Christmas Eve, everything looks incredibly beautiful as we pull up on Canal Street in New Smyrna Beach
This time I went in with another friend Kat, we both live for dining out together and to have her companionship on Christmas Eve was a beautiful surprise.
First Choices
On my first visit I noticed they had a grilled Ceasar Salad this was one of her favorite salads. It surprised her and the grin on her face was priceless.
It was served with fresh anchovies, such a delight not getting the kind of anchovies from the tin cans all salted and gnarly, these were delicate and a beautiful touch to such a simple Classic Salad so of course we started with that.
We also ordered a Brûléed Bone Marrow dish that hit my heart, probably in more ways the one as owner and chef owner Perry sat with us and explained the ingredients on the plate were made by him to tease the palate and it sure did with a Datil Pepper Dash and Datil Pepper Blackberry Jam and the Seasoned Sea Salt added just the right finish. I'd like to know where else you can find this artistry in Volusia County Florida. If you know please email me at info@behindyourdestination.com
Main Courses
On to the main course, we chose items from the menu. The Local Catch, which was a fresh Strawberry Grouper Oscar perfectly prepared, chunks of lump crab in Hollandaise alongside beautiful large Asparagus.
Our second dish was the Vegan Shawarma Spiced Pink Cauliflower Steak Roasted & rubbed with shawarma spices, quinoa, fresh edamame, roasted corn & local bee pollen. If there was a critique it just needed a little drizzle of olive oil, but the dishes were nothing short of spectacular.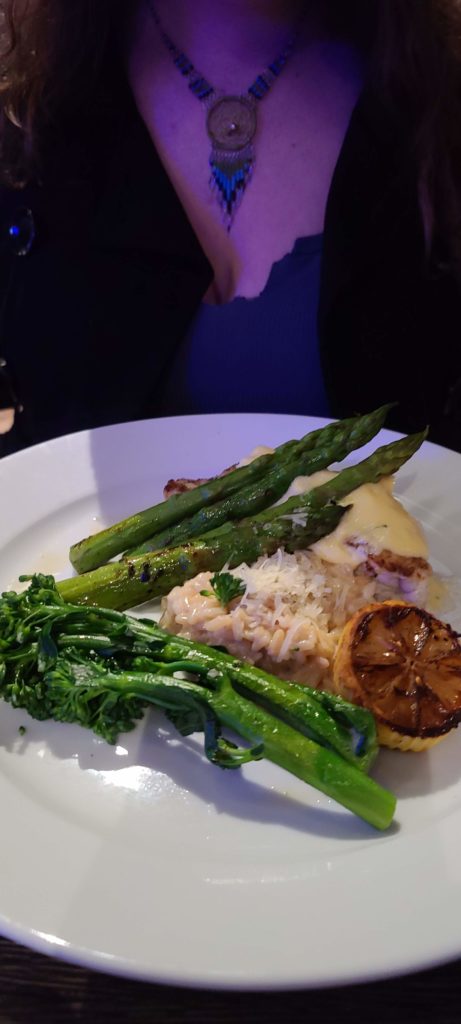 DESSERT
The Dessert was simply a decadent Crème Brûlée though there was also a Carrot Cake that woill have to wait for our next visit. We were stuffed but we were able to finish off the evening with a neat salt rimmed Patron. Yum!!!
To sum it up
I rate restaurants by using a 5 Knife Scoring system and from my point of view this place gets 5 Knives
It is truly a hidden gem and A Taste of Florida. The owners and staff should all be very proud of what they accomplished in a short 5 months of being open I wish them great success and am glad they are right in my hometown of New Smyrna Beach.
The Spott can be found at
424 Canal St,
New Smyrna Beach, FL 32168
(386) 400-9696
The Spott | American Restaurant & Bar in New Smyrna Beach, FL (thespottnsb.com)
Instagram @thespottnsb
They are open 6 nights a week.
---
For more reviews and local Arts Entertainment Music information and news follow us at www.behindyourdestination.com